The birth of Revaliir began in the stars like so many other worlds. Titans known as Celestials ruled the skies and filled mortal souls with terror and amazement. The Celestials Parvpora and Canelux became the moons and reigned over the skies for all eternity. Now the Celestials are lost to the flow of time and only myths remain. However, your story has yet to begin and where you might end up is entirely up to your imagination. Dare to roam the lands of Revaliir and discover the truth of yourself. What does fate have in store for you? Well, my friend, that is entirely up to you. You can't conclude a story that you haven't even started.
Come explore the lands. From the all too perfect streets of Egjora to the mysterious roads of Abed. Danger lurks in every corner if one isn't too careful. Get lost in the Feeorin Forest but beware the call of the fey. Hear the banshee screams of Koschei Forest from the dark town of Kurayo. Fly airships high into the skies and create your own destiny. One might even get lucky enough to end up next to a deity in the tavern. The possibilities, the stories, the myths… They are endless and entirely up to you.
Revaliir's community is one of the most enthusiastic, heartwarming, and accepting places on the face of the net. We strive to make sure that not only do you find a home but also that you are treated like family. The goal of Revaliir is to make sure that harassment is not tolerated, that everyone feels accepted and that everyone enjoys their time here. We, the community, are the heart of the site. From the Administration to the users we keep our lines of communication open. We strive to make sure our users know that they are wanted, their opinions matter, and that overall they are loved.
The only adventure never thought of is the one you haven't written yet. So why not join us and write? Revaliir is a High Fantasy Medieval site where the sky is the limit of your imagination and sometimes, even then, we push past it.
Remember:
---
If you wish to affiliate with us, please visit our affiliates page.
---
---
---
by Ciara
Posted on Sat Jul 24, 2021 4:34 PM
---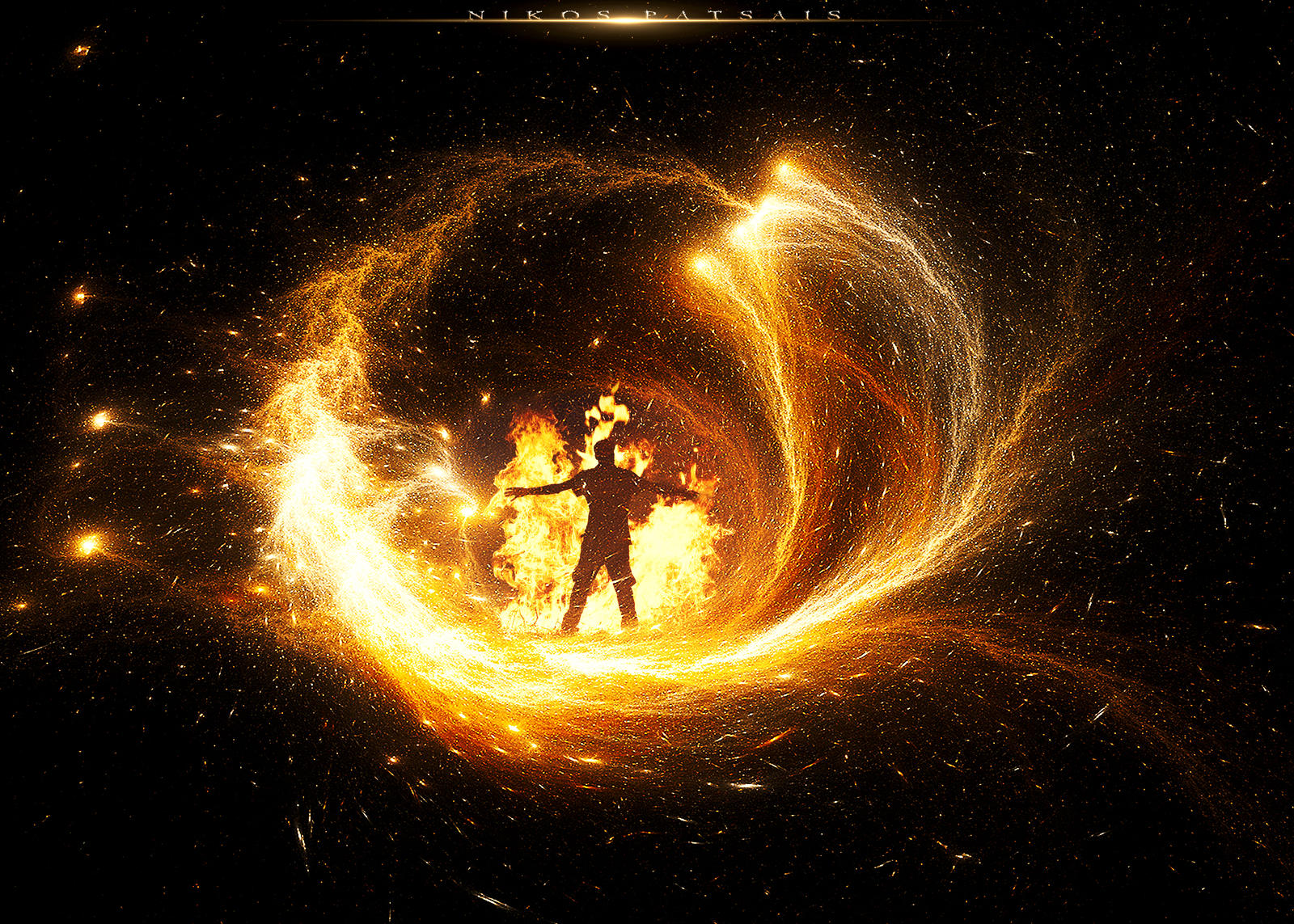 "How many cycles has it been for you….Mother?" A tired voice spoke out, ragged with age and exhaustion. A silver haired elderly man stood atop one of the tallest peaks of the rainbow hued Welayta mountains. His body was old, wrinkled, scarred, and weathered. A phoenix hovered in front of him, cocking its head curiously as he continued to speak. "Of course, I doubt you would remember me at this rate. It has been quite a few for me. I do not…no I can't remember. " His aged voice cracked with sorrow, and tears began to flow down his golden eyes. " I did horrible things, to people I loved, that I hated, that I was envious of. Tortured, killed, scarred, consumed by my rage." The phoenix stared curiously as the old man sobbed his words. Then with what looked to be a sorrowful gaze the phoenix flew into the cold night sky, and began to circle the old man.

Suddenly an orange light began to glow underneath his tanned skin, tracing through his veins all over his body. The glow grew more intense, as heat waves began to emanate from his body, causing the air to shimmer. The old man looked to the skies, the tears in his eyes disintegrating from the heat radiating off his body. " Maybe this time it will be different. He won't remember what I did, he will be free from my past ." The look of regret and sorrow lifted from his face, as his own body began to turn to white ash. Slowly starting at the tip of his extremities. Then as if a powder keg ignited his body burst with an intense amount of energy. Sending a loud explosion of heat energy outwards, that lasted for several minutes.

All that was left of the elderly being was a pile of ashes, a robe, and within the robe a small baby no more than three months old. The infant shivered in the cold night air, his tan skin covered in goosebumps, and his blood red hair speckled with the same white ash he was "born" in. Within the robes was a letter written in a shaky hand.
His name is Rez, teach him to be kind.
———————————————-

The original writer was Naki and his thread can be found HERE

This post is amazing because it deals with the concept of nature vs nurture in a compelling way in the fantasy world of Revaliir. Let's first look at the symbolism. The phoenix represents rebirth and a fresh start. But it does not guarantee a better life. The last sentence "His name is Rez, teach him to be kind" is asking for Rez to be raised to be kind, but there is no guarantee this will occur. Is he doomed to repeat his tragic/terrifying life because was always meant to be evil? Or was it how he was raised that led to his previous actions? These are the questions the quote evokes.

The language is also incredibly beautiful. The description of his transformation is vivid and filled with emotion from the character. The beginning starts with an orange light glowing underneath the skin as this character finally finishes his life and ends with a massive explosion as white ash covers the newborn baby. This part would be more than enough to be included alone but the ending sentence really finishes this piece off perfectly.
The photo was made by: Nikos Patsais(The photo was made by: Nikos Patsais) Read More

by Ciara

Posted on Sat Jul 24, 2021 4:26 PM
---
This is where we highlight some of our favorite monthly quotes from threads and posts all around Revaliir! Each month the staff will choose a quote to highlight and celebrate as a thanks to our wonderful writers. However, there are a few rules.
1. We only select recent posts from the current or past two months.
2. We won't include password protected threads since we need it to be PG-13 to share.
3. We will always ask permission from the original writer before we make our selection.
So let's have a look at these wonderful quotes!
Read More
by Shiloh Kyrie
Posted on Fri Apr 30, 2021 7:41 PM
---
Ars Aeterna
Centuries ago, a woman who moved among the scholarly circles in Kurayo vanished from the city. She left without much commotion and headed towards the storm-battered valley of Railoch. The reasons for her departure were dire: staying a moment longer meant a fate worse than excommunication at the hands of her former peers–all because she had used a fellow scholar in an experiment. Apparently, what she had done was so abominable that their cold, dead hearts were outraged. With the city of darkness no longer a haven, Ekaterina van Eisser fled to where she would not face such prejudice again.
She laid the groundwork for her new laboratory within an old abandoned crypt in Railoch. The bones that had once laid to rest were now dust and there was no one left to pay respects. In the darkness below the earth, a growing dissatisfaction with undeath began to take root. She became a vampire to escape the limitations of the human lifespan, but now she saw flawed this 'immortality' was. A paltry extension of life in exchange for glaring weaknesses. Vampires were reliant on blood, while liches were averse to holy light.
To correct those flaws, she began experimenting with angels. When hundreds of trials failed to produce satisfactory results, she concluded it was due to the weakness of an organic body. As her work transitioned into golems, she had an epiphany. Perhaps the true problem was the possession of a physical form. True immortality transcended the laws of life and death itself. She began transmuting test subjects en masse, turning the extensive underground laboratory into a massive refining complex to create a being without limitations, a living embodiment of her ideals. And now, those years of endless labor will soon be complete.

A call to arms has been sent far and wide across all Revaliir, backed by a shaky tentative collaboration between Ortolanus and Iskander—the former an ancient lich who was a colleague of Ekaterina's first victims and the latter an elder from Zets'Ki Cradle. The normally parsimonious undead master has even offered rewards for the brave souls who choose to risk their lives in breaching the underground stronghold to put an end to Ekaterina and her creation, once and for all.
TL;DR
A vampire alchemist obsessed with perfection is planning to bring an unspeakable horror into existence for the sake of achieving 'true immortality'. Stop her before that happens!

Event Location:
Railoch

Drops:
Liquid Gold (common)
Amulet of the Squared Circle (common) 

Event Prizes:
Orbs of Tria Prima
Vigile d' Egregore 
Vial of Aqua Vitae 
Read More
by Shiloh Kyrie
Posted on Tue Apr 20, 2021 6:15 PM
---
SOMETHING IS HAPPENING



A strange company of individuals arrived in the city of Gobethio shortly after rumors started to die down. First came a procession of white-winged angels clad in vestments and ceremonial armor, followed by a macabre train of skeletal undead carrying a black-veiled palanquin. Both groups were headed in the same direction, leaving at different times of the day to inspect the ruins now that the surrounding region has become less dangerous. It isn't everyday where one sees angels and undead in the same vicinity without crossing swords, however they appear to be tolerating each other for the time being. For what reason did this storm-scorched corner of the world catch their interest?
Read More
by Shiloh Kyrie
Posted on Mon Apr 12, 2021 2:04 PM
---
SOMETHING IS HAPPENING


Recent activity of the hostile golems wandering around Railoch has significantly decreased in the past months. Travelers and locals alike welcome the unexpected turn in events, however golem scavengers have reported sightings of otherwise intact constructs lying in the mud with all of their interior mechanisms removed. Those who venture out of Gobethio have seen strange lumbering figures that hang around certain ruins, standing guard for some unknown purpose. Their shapes are difficult to make out in the pouring rain, but they have been described as being vaguely humanoid in shape. Read More